Mooseheart Child City was founded in 1913 and since then over 12,000 children have received help from the campus. The newest addition to the campus, opening in October of 2011, is the maternity home located in the once vacant South Carolina house. The home is a safe haven for underage mothers who do not have a stable family situation or would otherwise end up raising their child on the streets. Holding her own newborn son Austin, Mariah, right, feels Amber's stomach and waits for a kick on Monday, March 5, 2012. The two have formed a bond since meeting at the maternity home. "That's my best friend," said Mariah of Amber.
Pregnancy magazines and newborn books are a constant reminder that this is not the typical teenage home at Mooseheart. After her baby shower, Amber writes thank you notes for all the people who came to see her.
The Maternity home has the ability to take in up to five mothers between the ages of 12 and 17 in the months leading up to their births as well as 10 weeks afterwards. The girls have to be accepted into the program as well as adhere to Mooseheart's rules and guidelines while living there. Family teachers and other experts regularly come into the home and show the expectant mothers vital parenting skills like CPR and newborn care.
School is still a must for the young mothers, including designated study time each day. Mariah, 16, finishes up her homework on Thursday, February 09, 2012 before working on her chores for the week.
Lily receives a ultra sound at Rush-Copley to find out the sex of her baby on Tuesday, November 29, 2011. It will be a boy, the third in the house.
Amber, who is at her due date, lies on a couch and falls asleep despite the excitement of the home's newest addition. Mariah's newborn boy, Austin, is held by house mom Brittany on Monday, March 5, 2012.
On their first day back at the Mooseheart maternity home, Mariah kisses her newborn baby, Austin, on Thursday, March 8, 2012. "It was a decision I probably should have waited to do but I don't regret it at all," Mariah said, "I love my son and I wouldn't give him up for anything." Mariah was the first mom to give birth at the home and has since successfully completed the program.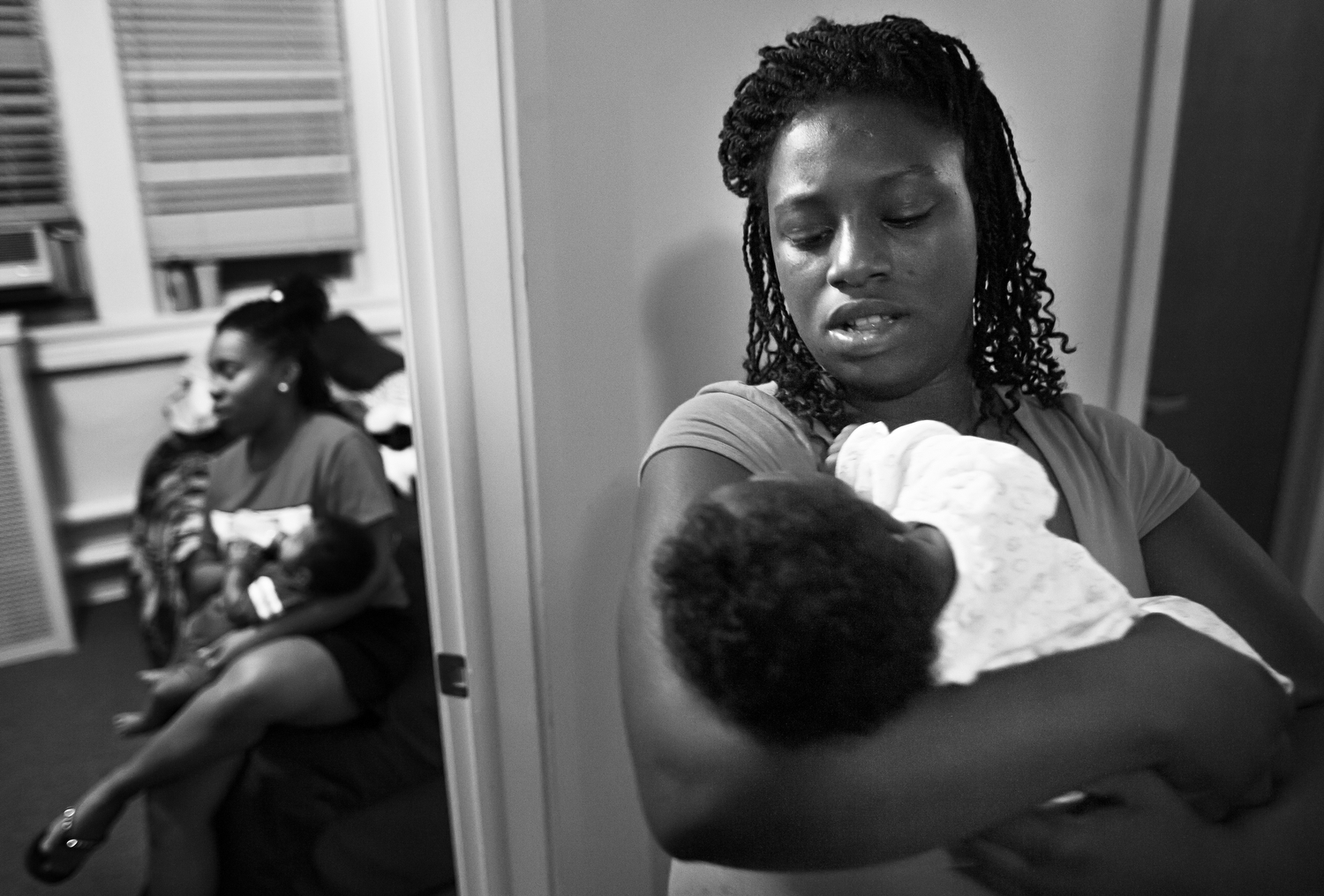 Amber comforts her baby girl, Leah, as she tries to put her to bed on Thursday, May 3, 2012.
"We end up splashing each other more than the babies," said Amber, right, as she and Mariah, left, give their newborns a bath before bedtime on Thursday, May 3, 2012. "It's hard, but it's a blessing," Mariah said about becoming a mother.
Amber finishes cleaning the kitchen as her daughter, Leah, watches from her stroller on Thursday, May 3, 2012.
House mom Faith tries to comfort Mariah's baby, Austin, as she gets ready for bed on Monday, March 5, 2012.
Mother's Choice